Hello Developers,
My system:-
Distro: Q4OS 5.2 Aquarius
OS: Debian GNU/Linux 12
KDE Plasma Version: 5.27.5
KDE Frameworks Version: 5.103.0
Qt Version: 5.15.8
Graphic Platform: X11
I placed a similar request to the Help plasma discussion which probably caused confusion as am not very familiar with the appropriate terminologies and/or posting to the irrelevant Category.
Be that as it may, I thought and hope that re-posting a modified request to Development-all-plasma may result in obtaining more pertinent responses.
In my humble opinion, I perceive the size of both displays disproportionately large. It's even more pronounced on my wife's laptop monitor screen resolution: 1366x768.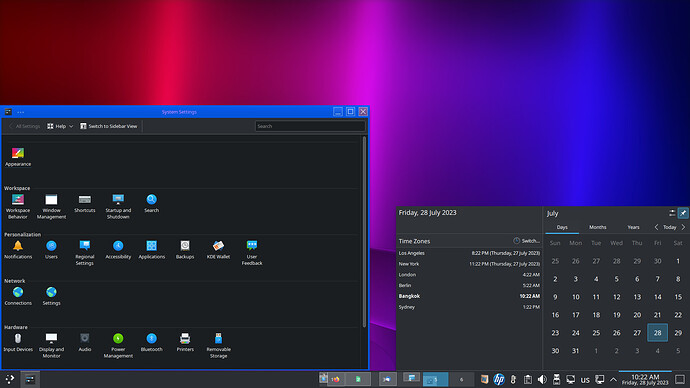 System Settings display (as shown in the Screenshot).
The System Settings display is already minimized and is not responding to mouse actions for further decreasing display. Under More Actions is a Resize Option alas it won't decrease to my desired size of display.
The Global Scale is set by design to 100% and can only be increased.
Is it possible reducing the size of this display any further (say to the size of the calendar display minus the bonded Time Zones panel)?
Calendar display with Time Zones (as shown in the Screenshot).
If it wasn't for the Time Zones display, the size of the calendar display by itself would (in my view) be just about satisfactory.
Is it possible to either reduce the size of the display or alternatively do away with Time Zones display completely?
Thanks.