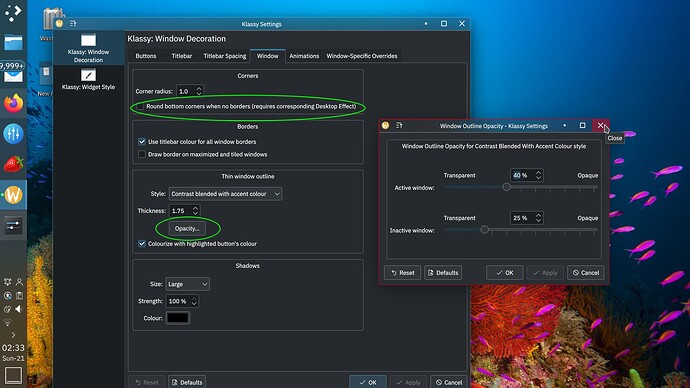 Klassy v4.3 customizable window decoration and application style released for Plasma 5.27
Full release notes at Klassy 4.3.breeze5.27.5 released · paulmcauley/klassy · Discussion #86 · GitHub
Installation instructions at GitHub - paulmcauley/klassy: Klassy is a highly customizable binary Window Decoration and Application Style plugin for recent versions of the KDE Plasma desktop. It provides the Klassy, Kite, Oxygen/Breeze, and Redmond icon styles.
Stability fixes included as from previous release
Changelog:
Updates from upstream Breeze up to Plasma 5.27.5

Window class matching on Wayland for exceptions, and exception code overhaul. Kdenlive removed from default transparency exceptions, VirtualBox and DigiKam added.

JSON desktop files, and decoration config now in a separate static library.

Fix sharpness of corners when 0 corner radius.

Fix program icon sizes for sharpness.

Allow configuration of Window Outline transparencies- Tweak shadow caching mechanism so cache used more often

Fix titlebar background colour animation

Fix titlebar separator display

Fix blurRegion shape when no borders

"Round bottom corners when no borders" experimental option for use with LightlyShaders etc.