Sometimes I want to use videos I shoot with my phone a Samsung S21 Ultra and not my regular Sony FDR-X3000 video camera.
When I add my S21 videos to Kdenlive I get a popup asking that I "Transcode Clip", "The following clips are not usable for editing…" Then it gives me a list of options to convert the file.
My question is there a way to change my phone's camera settings to shoot videos without variable frame rate so I don't have to transcode each time? If not which which of the options should I use to convert in Kdenlive without losing video quality or sound?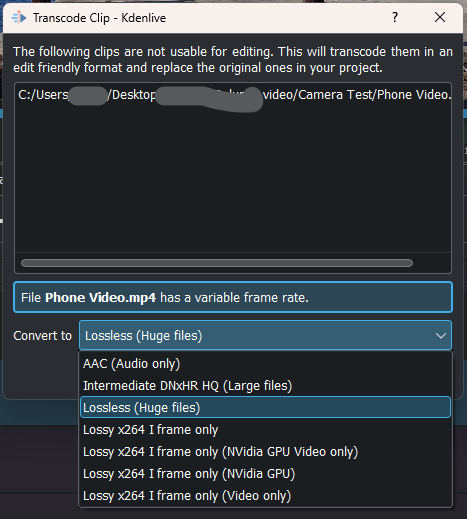 My setup:
Kdenlive Version 23.08.0
Thinkpad Laptop running Windows 11 Pro
Samsung S21 Ultra 5G, using Factory Camera App for Video
Thank you