I'm on Kubuntu 23.04 with Plasma 5.27.4 and use three screens. Most of the time, the sole occupant of the right screen is a Firefox window, the left screen is for Thunderbird and occasionally another Firefox window and the main/center screen is for everything else.
I use Alt+Tab probably hundreds of times a day to switch between windows. I've set KWin to sort windows in the order of most recently used.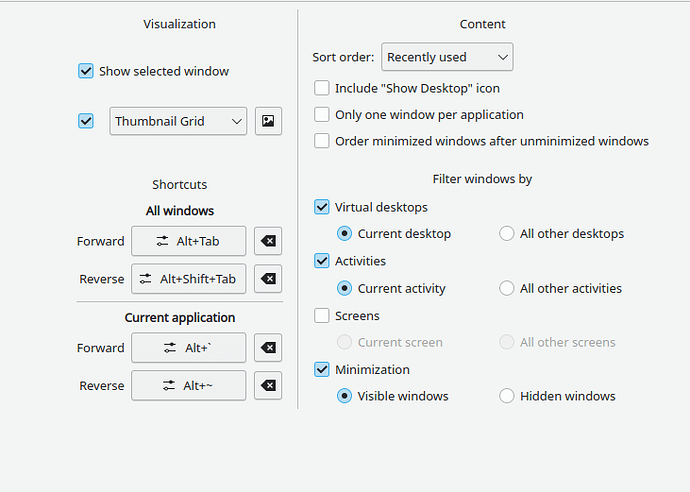 Every now and then – and there doesn't seem to be a clear-cut pattern for when this happens – when I'm Alt+Tabbing back and forth between, say, a Firefox window and VS Code on my main screen, instead of switching to the expected window, the Firefox window on the right screen gets the focus. If I Alt+Tab back, I get the previously focused window, and then if I Alt+Tab twice, I get the other window I originally intended to focus on. After that, I can continue to Alt+Tab back and forth between those two windows until the issue resurfaces, which happens anywhere from never to a dozen or so times a day.
It seems that for whatever reason KWin (or whatever is responsible for managing the Alt+Tab order of windows) occasionally slips this one Firefox window into the Alt+Tab stack as the most recently used window. Since there's no apparent pattern to when or how often this happens, I have no idea what might be causing this. I've found two or three posts on Reddit, Stackoverflow, etc. that report similar issues, but nothing that reflects my issue 100 % and the proposed solutions didn't work.
Has anyone here experienced this issue or an idea what might be causing it?