So, after some time using KDE I noticed my maximize button suddenly stopped working. I have no clue why. I restarted my PC multiple times and tried to remove and add back the maximize button through the system settings but it just does not work: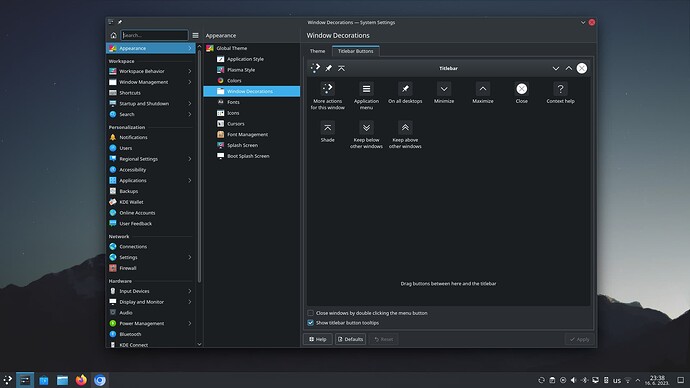 Shortcuts to maximize don't work either. I used to have a different theme on and it would show the button but it wouldn't do anything when clicked.
I have some tiling scripts installed like Krohnkite and Bismuth, they were never activated at the same time. Currently all scripts are disabled and I restarted multiple times without any scripts.
Neofetch info:
bery@bery-latitudee6540
OS: KDE neon 5.27 x86_64
Host: Latitude E6540 00
Kernel: 5.19.0-43-generic
Uptime: 8 hours, 51 mins
Packages: 2394 (dpkg), 56 (flatpak)
Shell: bash 5.1.16
1920x1080
Resolution:
DE: Plasma 5.27.5
WM: kwin
Theme: [Plasma], Breeze [GTK2/3]
Icons: [Plasma], breeze-dark [GTK2/3]
Terminal: konsole
CPU: Intel i7-4700MQ (8) @ 3.400GHZ
GPU: Intel 4th Gen Core Processor
Memory: 3376MiB / 7853MiB
If you have any clue whats wrong or what would make it easier for anyone to identify the issue please let me know. Thanks for any help in advance.