Hi! I am a very, very new linux user who just recently made the switch to KDE Neon on a Dell XPS 15 laptop. The installation went seemingly fine, and I was using firefox for web browsing for a few days. Today, I finally deciding to install some other applications through synaptic. When I did, I noticed that none of my applications (stellarium, discover, etc.) would launch, so I decided to put my computer to sleep and troubleshoot the problem later. When I awakened my computer from sleep, I was confronted with the message stating "The screen locker is broken and updating is not possible anymore. In order to unlock it, switch to a virtual terimnal (eg Ctrl+Alt+F2), log in to your account and execute the command: loginctl unlock-session 7 Then log out of the virual sesion…" It seems to be a pretty common error message for Neon updates, but I was unable to log into the terminal and decided to reboot my computer to work on it later. Ideally, I would want to include an image of this error, but this forum doesn't allow new users to display more than 1 image per post.
After rebooting, I cannot open any aspect of the software (Rebooting again does not solve the issue). Whenever I click the boot option for KDE Neon in the GNU, I am confronted with white text on a black screen displaying messages that lead to a failed reboot. Since nothing is able to boot, I am stuck and cannot enter the operaing system. The white text which prevents proper bootup are listed below.
"
psmouse serio1: elantech: elantech_send_cmd query 0x02 failed.
psmouse serio1: elantech: failed to query capabilities.
ACPI BIOS error (bug): Could not resolve symbol [.TZ.ETMD], AE_NOT_FOUND (20220331/psargs-330)
ACPI Error: Aborting method _SB.IETM._OSC due to previous error (AE_NOT_FOUND) (20220331/psparse-529)
"
followed by a bunch of bluetooth failed commands. An image of these commands is shown below.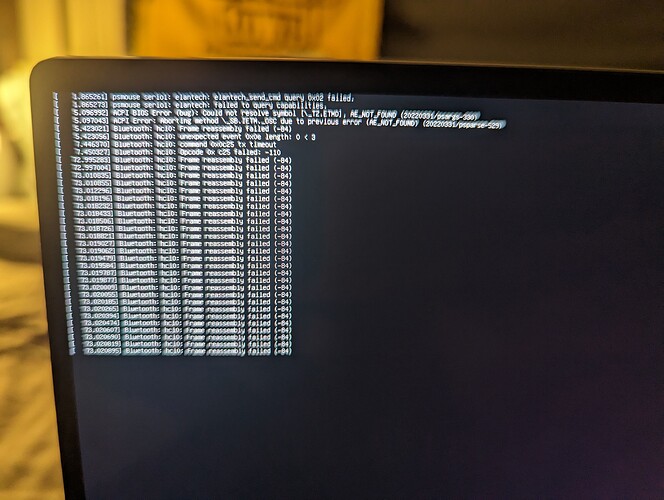 Nothing boots up, and, as I am quite new to Linux, I have no idea how to even begin fixing this problem. I am quite confused because this is almost a vanilla install of KDE Neon, yet somehow the entire OS is corrupted in a horrible way. Is there a way to fix this problem, or is KDE Neon permamently misconfigured on my computer? If it is, I probably will have to leave this distribution, as it seems to break way too easily.
Any and all help will be appreciated! I cannot access any part of the software and am currently limited to the GNU menu system. If you provide directions, please include it in a way that someone very unfamiliar with linux can understand. Thank you!