https://imgur.com/nPH2SMX demonstrates the issue.
Apologies for the abysmal quality of the video, but hopefully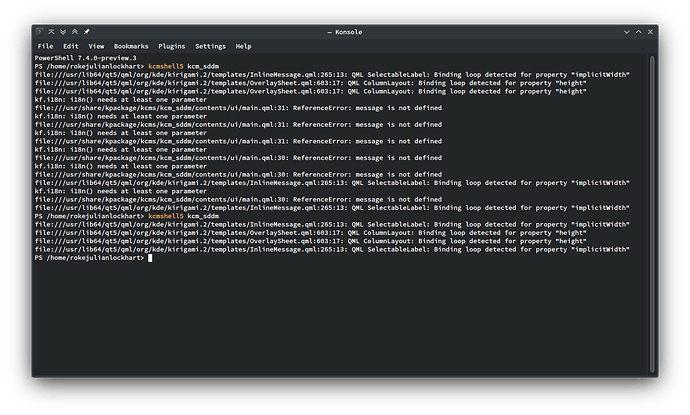 is enough to allow diagnosis.
main.qml:31 does not have the word message in it on the current Plasma/5.27 branch, going back several months.
What Plasma version are you using? And on which distro?
KDE Plasma Version: 5.27.5
KDE Frameworks Version: 5.107.0
Qt Version: 5.15.9
Kernel Version: 6.3.6-1-default (64-bit)
Graphics Platform: X11
Processors: 12 × AMD Ryzen 5 3600 6-Core Processor
Memory: 31.2 GiB of RAM
Graphics Processor: AMD Radeon RX 5700
Operating System: cpe:/o:opensuse:tumbleweed:20230612
I'm using the SDB:KDE repositories - openSUSE Wiki, so that's extra weird.
---
Thanks for the assistance.
You're welcome! Can you attach the main.qml file here?
Sorry, the file you are trying to upload is not authorized (authorized extensions: jpg, jpeg, png, gif, heic, heif, webp, avif).
@ngraham, I can't be bothered to fiddle with drive.google.com or onedrive.com, so I've created 471040 – Can't save preferences in kcm_sddm and uploaded the file as https://bugs.kde.org/attachment.cgi?id=159666.
All right, let's follow up in the bug report.