Hi there… so I'm going through my files and organizing things, and I went to change the view in a folder and I realized the menu bar (where File, Edit, View, etc live) is just… gone.
I did find the KDE docs page here that explains that CTRL+M will show the menu bar.
Well… it isn't working. I even restarted my computer. Tried both Control keys (in case it was sensitive as to whether it's the left or right control key) and still nothing.
Is this something anyone else has encountered? Anyone have a fix? Currently I have to go to the hamburger menu, then go all the way down to the "More" option to see the regular menu options. I've checked my settings for Dolphin and I can't see where to turn the menu back on if CTRL+M doesn't work.
Picture of the only place I can find the traditional Menu settings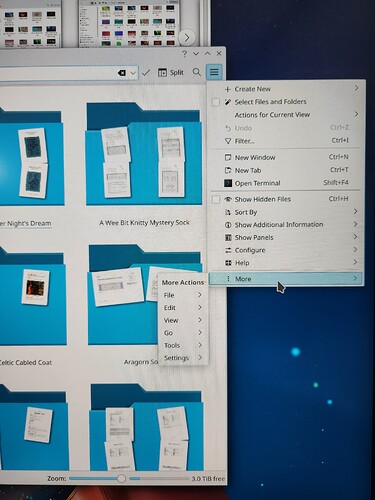 I'm still fairly new to Linux being my daily driver, but I'm doing my best to learn, any help would be appreciated!
System info:
Operating System: Kubuntu 23.04
KDE Plasma Version: 5.27.4
KDE Frameworks Version: 5.104.0
Qt Version: 5.15.8
Kernel Version: 6.2.0-27-generic (64-bit)
Graphics Platform: X11
Processors: 16 × Intel® Core™ i9-9880H CPU @ 2.30GHz
Memory: 31.2 GiB of RAM
Graphics Processor: NVIDIA GeForce RTX 2080/PCIe/SSE2
Manufacturer: HP
Product Name: OMEN by HP Laptop 17-cb0xxx
Dolphin Version: 4:22.12.3-0ubuntu1