I am recently considering to use KDevelop to develop Qt software in general rather than just KDE software.
The main issue I have is the semantic analysis that produces warnings all over and prevents me from Ctrl+clicking: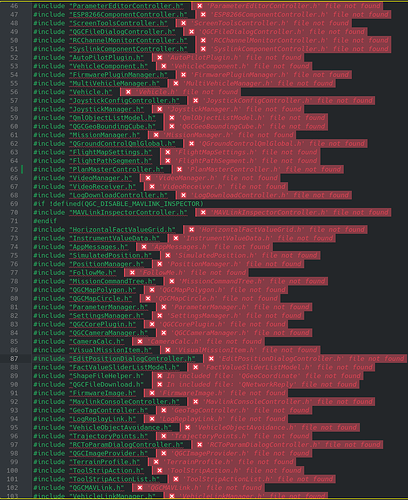 I imported this project using the .pro included in the source code
I've tried looking for an answer but:
Including the exact file under "Open Configuration > Language Support > Includes/Imports".
Changing the "include_directories" in CMakeLists.txt.
Disabling Clang-Tidy, Clazy and Cppcheck supports under "Configure KDevelop > Plugins".
Changing the Compiler Path under Language Support to GCC "already set be default".
Enabling system headers in Clang-Tidy and Cppcheck.
all did not solve the issue. If you'd like to reproduce this problem, you can:
Clone a Qt project like QGC https://github.com/mavlink/qgroundcontrol with:
git clone --recursive -j8 https://github.com/mavlink/qgroundcontrol.git

as instructed in their developer guide.
Get KDevelop and open their qgroundcontrol/qgroundcontrol.pro
Refer to qgroundcontrol/src/Vehicles/Autotune.cpp line 12 for example.
If someone is able to build this project in KDevelop instead of the standard Qt Creator (which is currently still visually broken when using Breeze Dark in Plasma) that'd be a plus. Thanks!
KDE Neon 5.27
Qt 5.15.9
KDevelop 5.11.230401 (23.04.1)