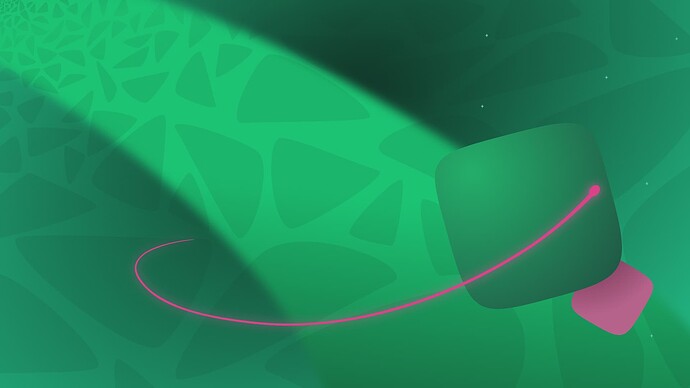 Presenting Nova Wallpaper
Greetings everyone! Nova is my first submission to this contest, in its light (or normal) and dark variants.
I have made large and minimun size horizontal versions, and also vertical versions, which are available at this link. I am willing to make variants in different colors and upload the source .svg file. I made some colored versions, eight versions in total, which are not uploaded on that link, but I have uploaded the .svg file! This work has been done entirely using Inkscape!
Inspiration
My inspiration for this wallpaper is, as I hope it's obvious, space and space travel, and theme wise, I hope to evoque vastness, infinite possibilities, determination, evolution and modernity, but also happiness, creativity and playfulness.
I also find that it suits very well the proposed themes of:
Trustworthyness, as the universe is literally all there is and we can trust it will be there to explore, and also space travel is an enterprise that requires the most rigurous and up to date technology, engineering and methods.

"A reflection of me", as the playful style and bright colors makes it appealing to a wide audience, specially non tech people. Also, I find the themes of space and astronomy very interesting and I often try to learn something new about it as a personal hobbie. By the way, I hope my plans of making different color variations can help to make it feel more personal.

Personal growth, as I think I have matured since previous designs I have made (for other KDE contests), the same way I think the visuals of plasma have grown and evolved. My previous attempts had more straight edges and corners, and 3Dish elements, trying to imitate the current plasma wallpaper's style, but now I have gone in a more rounded and flat direction, but trying to maintain basic shapes, as a way to say "we are the same, but we are evolving". This shapes with rounded corners I think fit very well with the floating panel of the Plasma Desktop.
I hope you like it…
And find it appealing. If you want to know more or give some feedback, feel free to comment.
Nova wallpaper and all of its size and theme variations and source files are released under CC-BY-SA -4.0 License