Not a huge fan of the color, but I love the style, great job !
I think the beauty of this design is that it would work equally well in different hues too.
Did you have a specific hue in mind ? I will definitely try some others, and post them to this thread.
I prefer this one better, but that's just because I've never been a huge fan of purple
As Paul_Brown said, the cool thing about your design is that the hue doesn't really matter.
In fact, for my taste, I would lower the saturation to make it almost entirely gray, with just some tint of blue, and I think that it will still look amazing !
Once again, great job, I love it !
Thank you. I will definitely be working on these suggestions and hopefully something great comes out of it.
Kudos! Overall I really like your design.Concerning purple'ish wallpapers… I agree, it's also not my cup of tea. Never would use one of these, but I guess that's a matter of taste.
Hmmh, but maybe this one could also work as a semi-transparent colour neutral one, where you can set the tinting in Plasma itself (as it's already possible when setting wallpaper placement to center or tiled).
This is a quick and dirty with your orginal picture, hope you don't mind. Just desaturated and set to 66% Opacity in Krita, tint colours set in the wallpaper settings:
Plasma Blue:

Slate grey:

keep my fingers crossed for you in the contest.
I'll try and create a git repo link with the source file and a few variations of this. I am in no way an artist professionally or even a designer I'm just doing this to be included in as a KDE wallpaper the laptop would be a super bonus.
KDE blue (#1D99F3) would be a good one to try. Maybe also SUSE green. I like the purple, although personally I would go a little darker.
Here is the Reimagine repo for the source file and some of the PNG edits.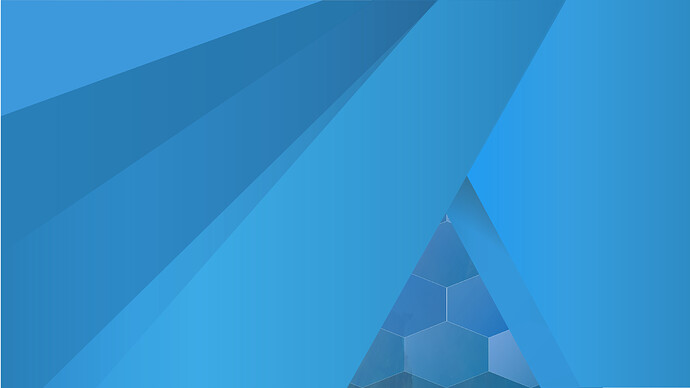 I think I have gotten so far from the original version of this that I think I may have to submit a new submission. This is the one I am currently on. I used the breeze blue colors for this.
Thank you. I mainly would love to have my work showcased in Plasma. So if I don't win and am somehow still in a plasma release I'd still be ecstatic.