As far as I can tell Dolphin diplays the mounted drives/partitions in the "Devices" section based on /dev/disk/by-path.
Unfortunately by-path can change if you have multiple disks attached during boot.
For example in one of my computers I have three SATA drives, sda, sdb and sdc. In Debian or openSUSE it happens more or less frequently that /dev/disk/by-path does change - sda, sdb and sdc could be assigned differently during any boot.
This results in drive/partition entries in the "Devices" section to be mixed up.
Here are two screenshots to illustrate this behaviour ("Geräte" = "Devices"):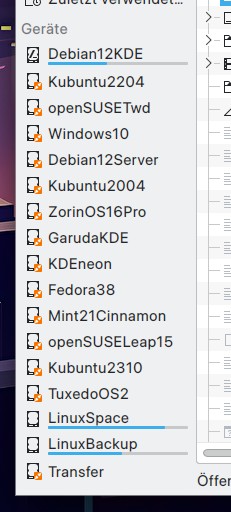 "Debian12KDE", "Kubuntu2204" and "Windows10" are on the only M.2 NVMe drive - therefore their entries stay constant.
IMHO it could be an improvement to base the disk entries in Dolphin's "Devices" section on e.g. /dev/disk/by-uuid or by /dev/disk/by-label instead.
If my assumptions are correct…
PS: The screenshots are from Dolphin 22.12.3, but it also happens in other versions like 23.08.2.