When right clicking on a places folder in Dolphin, the context menu shows "Remove" to remove the folder.
I personally think this is a bit confusing as you might think it deletes the folder instead of removing it from places.
I think elaborating the name to "Remove from Places" would be ideal, especially since the context menu option for adding a folder to places when you right click on one is called "Add to Places".
Also the symbol could be changed to the bookmark icon with a minus sign instead of the trash symbol because the add option is like that with a plus.
Finally, the color for the symbol could be black instead of red because the action can easily be reversed. The images below show what it currently looks like for both.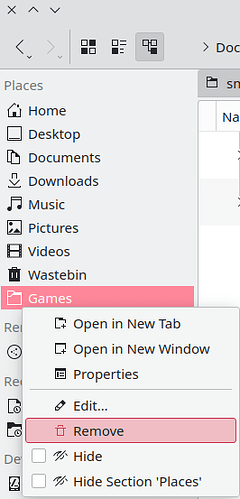 Side note: It was also difficult to capture a screenshot of the context menu because when using spectacle to capture the active window it would disappear in the screenshot. I had to capture the whole screen for it to show for some reason. I guess this is because the meta key in the shortcut must close the menu.