I'm used to taking active window screenshots with Alt+PrtSc. Why can't I assign this combination in KDE?
Fedora 38 accepts it as a strange two-step "Alt, Alt+SysReq", Debian trixie as this: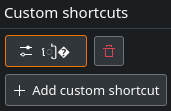 Still, in both distros, Alt+PrtSc doesn't do anything.
In Xfce it works, so I guess it's not an X limitation. Looks KDE-specific.