I've been baffled why KDE has so many different places for configuring online accounts. Every KDE PIM app comes with its own slightly different UI where you can set up Akonadi resources. The underlying set of resources is the same, but they are shown in different ways. There seems to be no discoverable place where I can manage them all in a single location. When people create a new app, like the Merkuro developers did, they create their separate new configuration UI, again for managing the same set of Akonadi resources.
Then there's the Online Accounts KCM, where I can configure a totally different set of resources. It's not obvious in what way they are different — they seem to be more about file sharing (?). But I can configure a Google account there, and it asks me for access to my calendar, except that the resource is usable only for uploading videos to Youtube, and even though I've given it access to my calendar, I can't actually use it to access my calendar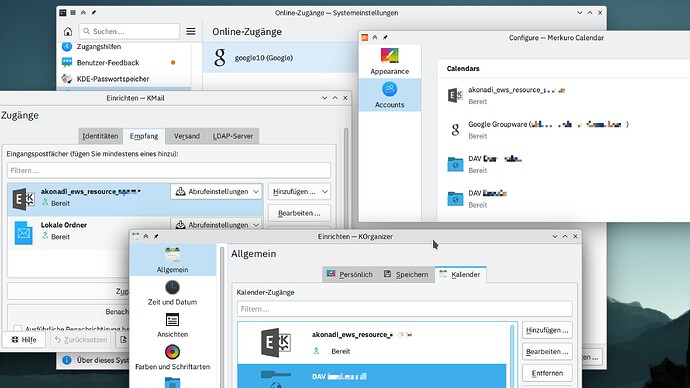 Wouldn't it be better if there was a single KCM for managing all online accounts (filesharing, PIM or otherwise)? Or at least a dedicated KCM for online PIM accounts so that I can manage them through System Settings? To me that would make more sense, as these online resources that are shared across different apps. And then the developers of a new app wouldn't have to come up with their own account setup UI. Instead they could just stick to the specifics — selecting specific calendars (in a calendar app), configuring mail sending behaviour (in a mail app) and so on.