I've got a WG connection setup. Easy as pie on my Unifi.
Phone's connected.
But I'm having trouble setting up the VPN using Plasma's Settings GUI.
Here's what I have:
Config file for WG, as provided by unifi:
[Interface]
PrivateKey = +Gx[PK removed]
Address = 192.168.3.3/32
DNS = 192.168.3.1

[Peer]
PublicKey = Csn[ PK removed]
AllowedIPs = 192.168.3.1/32,192.168.3.3/32,0.0.0.0/0
Endpoint = [public IP removed]:51820

And here is the connection:
the private key from the config file is loaded here.

Here is the peer:

Here is the IP address I manually set: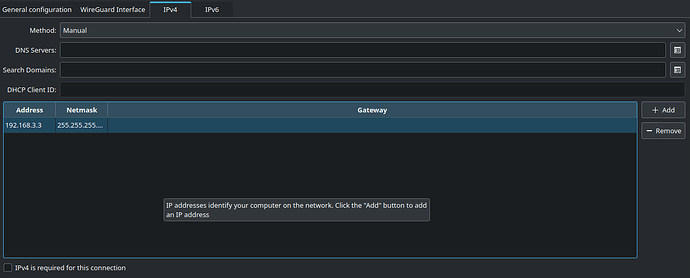 When I turn on the connection I have no network access.
Can't ping google, 8.8.8.8, or the router 192.168.3.1
What am I doing wrong?