I like the wallpaper… tho, it's missing some "horns", it could suit my FreeBSD setup very well
You can never have enough horns
on your plasma desktop… (Or beaks and flippers)
Always gotta have WLOP on the background. I try to keep things minimal just using Breeze/Breeze Twilight with a dark teal accent color and hack font.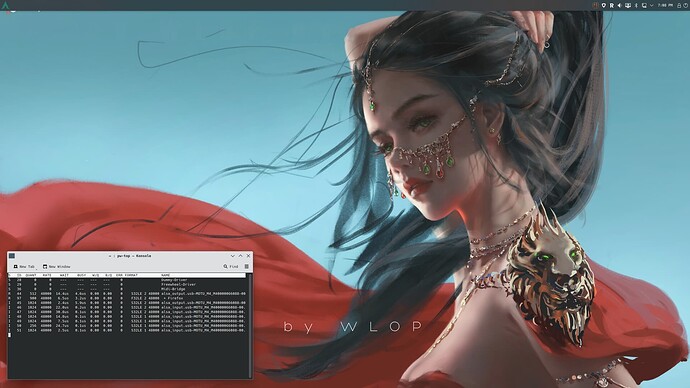 Thanks, jgmenu isn't what I'm looking for but since I looked in (at it) on this thread I prefer clean desktops, just like my realwood one on which few things loiter and they do so on the side. Both are more like a cockpit with system controls under the left hand and 'mission' ones under the right. Every now and then I permit myself some smirk but normally the center field (most all the monitor) is reserved for action. (I could not use links)
Artix:
AvLinux:
Devuan:
Slackware:
Tumbleweed Slowroll:
I'm not sure you meant to put this one here.
I did but links to my desktops on some of my different Linux systems bounced so I removed them
Some of my desktops for which I could not post links
Artix
AvLinux
Devuan
Slackware
Tumbleweed-Slowroller
Nice and clean.
Reminds me slightly of the default Windows 11 panel setup, but corrects its major flaw: the moving "application menu" when you open additional applications.
Thank you. I've been using that panel layout for a few years now. I've tried a bunch of other layouts in between but I keep coming back to this.
That fan is hot! And… ever had an SSD overheat?
Anyways I will always use these silicon pads on my NVMEs. Came with my inatec enclosure (which is absolutely great and awesome quality, all the parts and cables)
I'm about 90% done, but still tweaks to be made.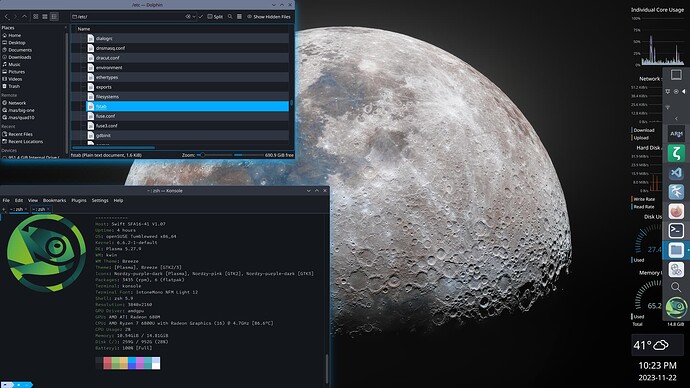 That's a pop-out panel on the right. Not my preferred look for a panel, but it's one of the few that meets my criteria of seeing the active window, which ones are open, and which ones have multiple open windows–and it doesn't insist on overwriting my colors. So many community-based settings opt for form over function and while they look great as a static image, I find they are frustrating to use daily.
That's why I'm stuck with the breeze Window Decoration, being the only one that honors my active/inactive title bar color. I'd really love my blue accent to be a simple border outline the way it provides an interior border outline in Dolphin, but I don't have a week of my life I'm willing to give to learning to code SVGs (and the KDE terms). As a workaround, I've enable the window shadow and gave that my accent color to allow me to differentiate windows easily when they overlap.