Here are two rather abstract wallpapers, made essentially by distorting a shape into oblivion and putting the camera in a funny position.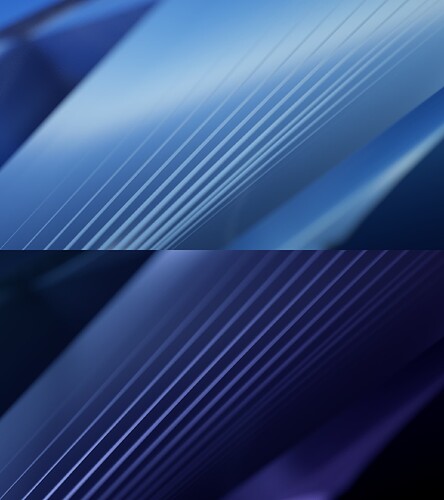 I stuck to a familiar light blue as it's not only the color I associate most with KDE, it's also summer here, meaning blue skies and gentle summer Breeze-s.
For something that's hopefully easier on the eyes at night, I added a hint of purple to the mix, though that's merely a personal preference. (i love purple)
The wallpapers are in 5120x2880 resolution, widescreen, and… the original PNGs are quite huge because they're uncompressed.
Since this is my first post I couldn't upload both of them as separate images, so I put them into one image. I'm happy to (privately) provide a link to my Nextcloud folder containing the original, unedited and uncompressed renders along with my project files.
Please bear in mind though that I was using Cinema 4D and Affinity Photo. If you don't have access to these programs, I'll gladly show screenshots of how these projects look instead.
Oh, and if there's demand, I can also make a vertical variant. I just haven't made them yet because rendering these takes me over an hour.